The outback is a very beautiful place – but venture into it unprepared and you'll soon find out just how hazardous it can be. Explore a few of the more miraculous (and ridiculous) stories of wilderness survival in what can often be a harsh and unforgiving place.
When 35-year-old Ricky Megee from Brisbane was heading to Port Hedland in late January 2006, he stopped to help a group of stranded motorists near the WA/NT border and agreed to ferry the smallest of the group to the nearest town.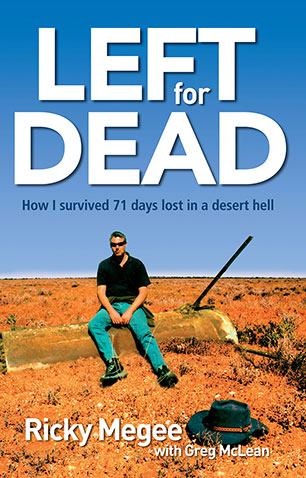 That fateful day ended with Megee being drugged by his passenger and left for dead in a ditch, covered by a tarpaulin weighted down with rocks. He then wandered aimlessly for ten days before setting up camp under an old cattle trough beside a dam, which allowed him a constant flow of water and a diet of toads and lizards.
He survived in this fashion for ten weeks, before being discovered and rescued by two passing station hands – 60kg lighter, lucky to be alive.
A Gripping and inspiring story of how one man endured almost three months alone in the desert living on nothing but insects and frogs. An extraordinary story of survival in the outback.'No shoes, no vehicle, no food, no water and no idea. I'd always been one of those blokes who ragged on people who found themselves lost in the desert. Now I was one of those people. It was harsh, desolate country for a man all alone in bare feet. Nevertheless, I started to walk. And walk. The more I walked, I figured, the less distance I'd have to travel to get found. It was faulty logic, but it was the best I could come up with.'
In April 2006 the news broke of an amazing feat of survival by a white man in one of the most inhospitable areas of Australia. Ricky Megee was found sheltering by a dam on a remote cattle property in the Northern Territory.
After being abducted on the Buntine Highway then left for dead, Ricky had walked for ten days in bare feet through unforgiving terrain in blistering heat. Stumbling upon a dam, he set up camp there and survived for almost three months on leeches, grasshoppers, frogs and plants, losing 60 kilograms in the process.
In Left for Dead, Ricky Megee gives a full and frank account of his abduction, survival and extraordinary rescue. Vividly told, it's a gripping and yet inspiring story of how one man endures a terrible ordeal and lives to tell the tale.
Check out his book Left for Dead.
There's lots of fabulous stories like this in books you can find at The Bingara Newsagency.
Please let us know if you'd like to see something here. Contact us at editor@bingaramagazine.com.au. We'd really appreciate your input.